2023 Price List for Riding Lessons
As of 1st January 2023 riding lessons prices will be as follows:
1/2 hour child's lesson £25 
1 hour child's lesson £40
15 min Children's Pony Taster £15

1/2 hour Adult lesson £35
1 hour adult lesson £50
These prices are for Private Lessons.
The 1 hour lessons are 45 mins Riding time and 15 mins stable management.
Children's Pony Taster is a 15 min session for children 3 years and upwards, who have not had previous riding experience, on a pony in the Arena.
Childrens Pony Parties for Birthdays or Special Occasions: £35 per child max of 8 children per group. We can tailor-make a 1 hour or 2 hour birthday party. Contact us for more info.
Stag Do's & Hen Parties can also be catered for. Contact us for details.
These prices are for lessons on well trained horses/ponies that belong to the Equestrian Centre. If you would like lessons on your own horse then please contact us for a price.
All Horses and Ponies are owned by the farm and we do not use livery horses for lessons or treks.
Yard Manager and Head Instructor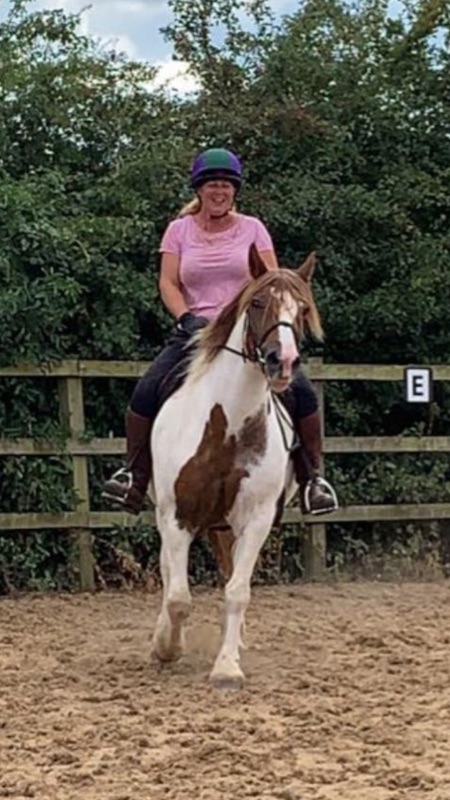 Jo Marston BHSAI Int. Sm is the Yard Manager and Head Instructor at SevernWye Equestrian Centre.
A bit about Jo: "I have my Horse Pickle on Livery at SevernWye. She is a 16hh Piebald Mare and we are training towards our next steps in Dressage. I also have a German shepherd called Diesel who occasionally accompanies me to the yard, he's very young so is still learning to behave around other animals. I'm looking forward to increasing our Lesson provision at SevernWye and currently working towards our British Horse Society (BHS) Accreditation to be able to offer BHS qualification training to all our customers".
Contact Jo directly at 07798 872984 - This email address is being protected from spambots. You need JavaScript enabled to view it.
Other Staff
Beth Jackson
I studied for 3 years at Hartpury university in Gloucester, obtaining a degree in BSc (Hons) Animal Behaviour and Welfare.
After graduating in 2021, I started working at Severnwye Equestrian Centre in July 2021 where I have gained valuable practical experience working with the many different types of animals at the farm. My Riding experience has increased and my confidence levels are soaring.  
I love working full time at the farm, spending my time with the animals and taking pony and llama treks out.  I also enjoy meeting and interacting with all the customers.  
Vikki Fisher
I started riding at just 15 months old, I've not really ever stopped since! I've been super lucky to have had supportive parents who all be it not horsey themselves! Found me my first pony at 12yrs old after proving for many years (volunteering at my local riding school back in the Cotswolds) I had the passion and dedication to care for and look after my own come rain or shine! Though I secretly think it was so my parents and siblings had some peace and quite from me and my ADHD. However my endless energy has worked to my advantage; I've gained an NVQ level 3 stud, Fdsc Equine Performance,  Bsc Equine management (top up) from Hartpury UWE and a level 3 Diploma in Equine sports massage therapy at various since leaving school.
I've worked with show cobs, show jumpers and many equines in-between. But found my passion in Dressage and have been lucky enough to groom for top level dressage horses alongside backing, training and all other aspects of equine care.
I currently have my horse of a life time in a Welsh D mare called Diva ( Dylasau Carriad Duu for the posh name) I've know her since she was 6month old and owned her since 4. She's now rising 11 (2023) and now training at advanced medium with our sights on pre snt George. We're proving that cobs can for sure! For the people not quite so horse obsessed that's break dancing level stuff with your horse!
I absolutely love to share my enthusiasm and knowledge of horses in ridden learning and on the ground care and look forward to meeting you all here at Severn wye Equestrian.